American business and the enterprise system have been
affected as much by the courts as by the executive and
legislative branches of government.
To advance the interests of New Jersey's employers, EANJ seeks permission to intervene in high-impact court cases. Not merely taking an advocacy role, EANJ has submitted legal briefs explaining complex economic issues that are specific to the state's business community and has also engaged in oral argument to help inform the courts about the impact of their decisions on employers.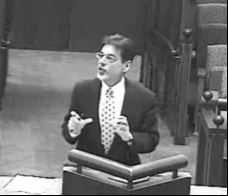 Aguas v. State of New Jersey
NJ Supreme Court  (2015)  An employer in a hostile work environment sexual harassment case may assert as an affirmative defense that it exercised reasonable care to prevent and correct promptly any sexually harassing behavior, and the employee unreasonably failed to take advantage of any preventive or corrective opportunities provided by the employer or to otherwise avoid harm.
D'Annunzio v. Prudential Insurance Company
NJ Supreme Court (2007) Seeking the reversal of an appellate court decision holding that an independent contractor has standing to sue as a whistleblower under the NJ Conscientious Employee Protection Act.  The Court holds that an Independent Contractor could have standing to sue if the Independent Contractor is under the direction and control of the employer and where the Independent Contractor is performing core services of the organization.
Gerety v. Hilton Casino Resort
NJ Supreme Court (2005) Holding that a woman who is disabled due to her pregnancy and who takes 180 days off from work is not entitled to additional leave if men with disabilities are required to adhere to the same 180-day maximum.
Joyce Quinlan v. Curtiss-Wright Corporation
NJ Supreme Court (2010) The Court rules that a Director of Human Resources can, under certain circumstances, remove and  use company - confidential information obtained in her capacity as HR Director to sue her former employer, alleging gender discrimination and retaliatory discharge.
Lippman v. Ethicon
NJ Supreme Court (2015)  The Conscientious Employee Protection Act applies when the alleged whistleblowing activities are disclosures made by "watchdog" employees in the normal scope of employment.
Maw v. Advanced Clinical Communications, Inc.
NJ Supreme Court (2004) Holding that the refusal to sign a non-competition agreement does not constitute legally protected whistleblowing activity.
Puglia v. Elk Pipeline
NJ Supreme Court  (2016) The National Labor Relations Act does not preempt a state law civil retaliation claim under the Conscientious Employee Protection Act where the claim does not require an interpretation of a collective bargaining agreement.
Stengart v. Loving Care Agency, Inc.
NJ Supreme Court (2010) The court ruled that an employer's interest in enforcing its electronic communications policy, which permits occasional personal use, does not outweigh an employee's privacy interest in personal email communications sent to and from her lawyer.
White v. Starbucks
N.J. Appellate Division (2011) The court ruled an employee does not state a cause of action under the Conscientious Employee Protection Act when the alleged whistleblowing activity constitutes the activities that an employee is hired and paid to perform.  Supreme Court of New Jersey denies Certification - 4/11/12.
Winters v. North Hudson Regional Fire
NJ Supreme Court (2012) The Court holds that a public employee who fully adjudicates a disciplinary notice where the tribunal finds that he has been fired for cause, cannot later sue his employer under the Conscientious Employee Protection Act (CEPA).