Five, 2-hour Live Online Sessions
More than ever before, employment decisions must be informed with a thorough analysis of downside risks and legal exposure. It is with this need in mind, that EANJ offers the highly acclaimed HR Law Certificate Program, providing a comprehensive, hands-on understanding of the essential legal issues necessary to manage an increasingly sophisticated and diverse workforce.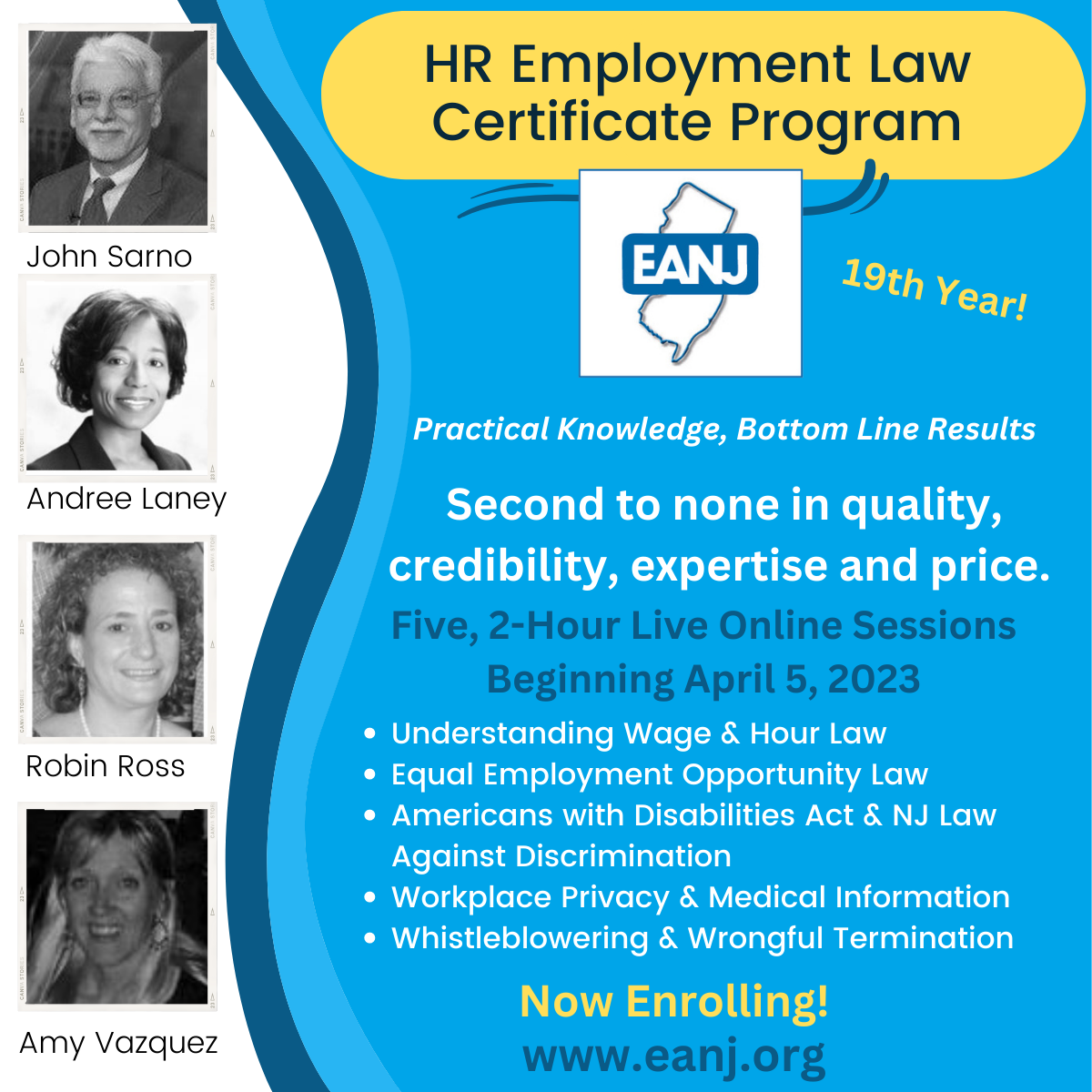 PRACTICAL KNOWLEDGE, BOTTOM LINE RESULTS
The HR LAW CERTIFICATE PROGRAM stands second to none in quality, credibility, expertise and price. Each session is led by EANJ's professional staff experts, the same professional team who have guided employers through the pandemic .  Not just for HR professionals, the HR LAW CERTIFICATE PROGRAM will enable any manager to succeed in today's challenging and complex workplace.
TOPICS and DATES
Wednesday, April 5, 2023 - Understanding Wage and Hour Law
Key Topics
Exempt v. Nonexempt Classifications

Overtime and Comp Time

Salary and Wage Deductions

Paid Time Off
 
Wednesday, April 12, 2023 - Equal Employment Opportunity Law
Key Topics
Overview of Federal and State Discrimination Statutes

Document Retention and Preservation of Evidence

Responding to the EEOC Charge

Harassment/Retaliation
Wednesday, April 19, 2023 - The Americans with Disabilities Act & the NJ Law Against Discrimination
Key Topics
Defining Disability  

When and How to Conduct Medical Exams

Providing Reasonable Accommodations

Drug and Alcohol Problems: Special Issues

Psychiatric Disabilities: Special Issues
 
Wednesday, April 26, 2023 - Workplace Privacy and Medical Information
Key Topics
Understanding the Right to Privacy

Searches and Surveillance

Health and Safety: COVID-19 Issues  

Electronic Communications and Social Networking
Wednesday, May 3, 2023 Whistleblowing and Wrongful Termination
Key Topics
What Type of Conduct Does the Law Protect

Evaluating Potential Whistleblower Charges

What is Retaliation

COVID-19 Issues
TIMES & ACCESS
All times 10am – 12-pm EST.
Sessions will be held virtually.  Registrants will be sent login information about a week before the event start date.
CERTIFICATE OF ACHIEVEMENT
As a permanent acknowledgement of your completion of the HR Certificate Program, you will receive a personalized framed Certificate of Achievement. This Certificate is a tangible and visible reminder to you and your colleagues of your commitment to professional growth and excellence.  Participants must complete four of five live sessions to earn a certificate.  Sessions will not be recorded.  The certificate is non-transferable.
REGISTRATION FEES
$990 per participant (EANJ Members)
$750 per participant for two or more from same organization (EANJ Members Only)
$1,250 per participant (Non EANJ Members)
Payment due in advance
Cancellation Policy - Cancellations must be received by 5:00pm ET on March 31, 2023. Refunds will not be granted for any cancellations after this time.
Pre-Approved for 2 HRCI & SHRM-CP/SCP Recertification Credits for Each Class 
(10 Credits Total)